After Baghdad church attack, Christians shocked but say 'we still have a mission here'
At least 58 people were left dead after Iraqi commandos stormed a Baghdad church attacked by Islamist militants.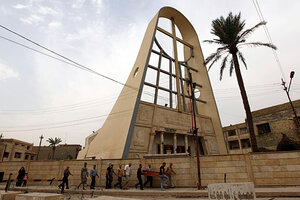 Hadi Mizban/AP
Iraq's Christian community was in shock Monday after a church siege by Islamist militants during Sunday mass and a rescue attempt by Iraqi commandos left at least 58 people dead.
Officials said that in addition to the priests, worshipers, and security forces killed, 75 more people were injured after Iraqi special forces stormed Our Lady of Salvation Syriac Catholic Church where gunmen wearing suicide vests were holding the congregation.
Church leaders blamed inadequate security by the Iraqi government for the deadliest attack in Baghdad since before March elections.
"If the sons of this country cannot live in peace then the situation is clearly unacceptable. Had we been provided with adequate security, this would not have happened," Syriac church official Monsignor Pius Kasha told the Monitor.
As an elite commando unit under control of Prime Minister Nouri al-Maliki's office stormed the church after a four-hour standoff, gunfire and explosions rocked central Baghdad on Sunday night. Witnesses and survivors say the attack started with a team of insurgents dressed in military uniforms killing guards at the nearby Baghdad stock exchange before they scaled the walls and started shooting inside the church.
The dead included two young Iraqi priests and a church deacon, as well as families attending Sunday mass at the church in the central Karrada neighborhood of Baghdad, say church officials.
Church protection
---