Israelis launch their own tea party ahead of US elections
Allies of Israeli Prime Minister Benjamin Netanyahu, rooting for a Democratic defeat, held an inaugural tea party rally Sunday night.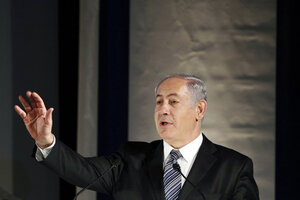 Baz Ratner/Reuters
Republicans and tea partyers in the US aren't the only ones expressing frustration with President Obama on the eve of midterm elections
Israeli allies of Prime Minister Benjamin Netanyahu launched their own self-described "tea party movement" this weekend, hoping that Democrats' defeats and a Republican takeover of the House or Senate will ease the pressure on Israel to make concessions to the Palestinians on settlement expansion
"We hope that that there will be more balance," said lawmaker Danny Danon, a member of Mr. Netanyahu's Likud Party, before the inaugural rally in Tel Aviv Sunday night. "We hope that after the elections there will be more Congress members who understand that it's not about how much Israel should concede, it's about finding a viable [Palestinian] partner."
While Israel's tea party is small and unlikely to affect the outcome of the US election, it is seeking to capitalize on the momentum of its American namesake to bring about change in Israeli politics. It also reflects accepted wisdom here that a change in Congress could induce a shift in Washington's approach to Israeli-Palestinian peace talks.
But some Israeli analysts say Israel's new tea party is engaged in wishful thinking, because even if the Congress shifts to Republican control, foreign policy will still be determined by the White House.
---