Baghdad grinds to halt as bomb attacks blanket a reeling city
Sixteen bombs struck Baghdad Tuesday, prompting a snap curfew and shocking a city still coming to grips with a deadly attack Sunday on a Catholic church.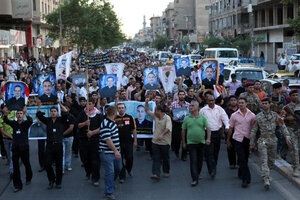 Khalid Mohammed/AP
Sixteen bombs struck Baghdad on Tuesday, exploding near crowded coffee shops and a Shiite mosque and bringing a city still reeling from a major attack Sunday to a standstill.
Iraqi officials said at least 63 people were killed and almost 250 wounded in what security officials said were car bombs and roadside bombs – most of them detonated over the space of less than 90 minutes.
"We don't know what's happening right now," says an Interior Ministry official who did not want to be identified. "There are so many explosions and so many reports right now, we're overwhelmed."
US officials said the coordinated attacks bore the hallmark of Al Qaeda in Iraq. An immediate curfew was put in place and roads closed after the string of explosions, which began just as many Iraqis were heading out shopping or for the evening.
In Fallujah, west of Baghdad, mosque loudspeakers announced a lock-down, with no vehicle traffic allowed. The Anbar provincial council said it was prepared to send police to Baghdad, and appealed to citizens to donate blood to the wounded.
The US military said it had reports of 13 to 17 explosions, with about 50 Iraqis killed and more than 100 wounded. In an unusual press release, it said its advisers, working with Iraqi Security Forces, had arrived at the sites of some of the explosions, which seemed to fit Al Qaeda in Iraq tactics.
---