After GOP victory, emboldened Israel declares new building in East Jerusalem
Israel publicized plans to build more than 1,300 new homes in East Jerusalem, angering Palestinians and disappointing the US on the eve of a Netanyahu visit.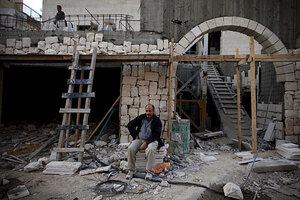 Tara Todras-Whitehill/AP
Israel has published plans to build about 1,300 new housing units in East Jerusalem neighborhoods, a move that highlights US-Israeli differences just as Prime Minister Benjamin Netanyahu arrived in the United States to huddle with Obama administration officials.
The Friday publication of the building plans, discovered today, was a surprise redux of Israel's approval of 1,600 new homes that torpedoed Vice President Joe Biden's March visit to Israel, angering the White House.
Then, as now, Israel played down its significance.
But coupled with Mr. Netanyahu's public call on Sunday for the US to create a "credible'' threat of military force against Iran, the publicized building plans are seen by some analysts as a sign that Israel has been emboldened by last week's Republican victory in the midterm elections.
"This gives them more room to maneuver," says Meir Javedanfar, a Middle East analyst in Tel Aviv. "Republicans back the Israeli government's stance on Iran and they are more accepting of Israel's West Bank strategy.''
---
Follow Stories Like This
Get the Monitor stories you care about delivered to your inbox.