How an Iraqi Christian school became 82 percent Muslim
Sectarian violence and a Christian exodus has left Baghdad's St. Elia Catholic school largely surrounded by Muslims, who were drawn to the school's no-hitting rule.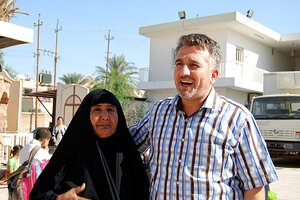 Jane Arraf
Down a battered street in the working class neighborhood of New Baghdad, next to a Shiite mosque frequented by followers of hard-line cleric Moqtada al-Sadr, children play in the school courtyard of St. Elia Catholic Church.
This was once a mixed neighborhood, home to Sunnis, Shiites, and – before the war – 2,500 Christian families. But the particularly fierce ethnic violence that raged here engulfed everyone and left a mostly Shiite neighborhood surrounding the Catholic school and church.
Related: In Iraq, Christians fear they could be wiped out – like Jews before them
"Eighty-two percent of the students are Muslim," says Father Douglas al-Bazi, the Chaldean Catholic priest who runs the school in East Baghdad. When he rushed across the city to Our Lady of Salvation church in Karrada on Oct. 31 after news of a hostage taking, his Muslim neighbors offered their help.
"We got calls from the neighbors – they said just give us the green light and we can bring guns and help the people inside," he says. "Our neighbors here say if someone touches you that means they touch us."
In a country that has been almost torn apart by sectarian violence, Christians and Muslims say the attacks are politically engineered and fueled by neighboring countries. They point to their long history of living side by side, and highlight examples of cooperation even amid the tense security situation in Iraq today.
"When I came back to my neighborhood, I found all the neighbors outside waiting for me to welcome me back," says George Meti Boutros, an Arabic teacher who survived the Karrada church attack. He says he is the only Christian living in his neighborhood in Bab al-Sharja.
---