In Iraq, Christians fear they could be wiped out – like Jews before them
The Oct. 31 attack on a Baghdad church – the worst in recent memory – has spurred a fresh exodus among Iraq's Christian community, already decimated by the war.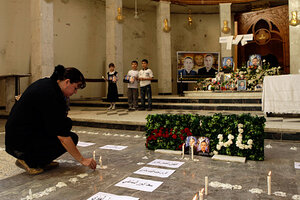 Khalid Mohammed/AP
In the flickering candlelight of Our Lady of Salvation Church, Nagam Riyadh sits against a pillar singing Ave Maria, her voice rising to the shrapnel-marked rafters.
"We are singing the hymns we couldn't finish on Sunday," says Ms. Riyadh, who was in the choir on Oct. 31 when gunmen stormed the church in an attack that has traumatized the Christian community here and raised questions about its future.
On the first Sunday mass after the attack, Nov. 7, she's one of hundred of survivors and mourners who have gathered here. They light candles in the shape of a cross on the marble floor next to the names of more than 50 dead. At the top are photographs of the two slain priests.
Riyadh, wearing a bandage around the bullet wound in her leg, pauses her singing to hand her passport to a church official. She's among more than 50 of the wounded being flown to France and other countries for treatment. Like many hundreds of others who are leaving after the attack, it's not clear whether she will ever come back.
"I was one of the ones who wanted to come back but now we're all leaving," says one member of the community who did not want his name used. "What's happening to us is what happened to the Jews."
One parish dwindles from 2,500 families to 300
Iraqi Jews, once an integral part of society here with a history dating back to Babylon, began fleeing in the 1940s. Now only stories of their once vibrant community remain.
---