Why Netanyahu is engaging Obama in a spat over E. Jerusalem 'settlements'
For Israeli Prime Minister Benjamin Netanyahu, who yesterday rebutted Obama's criticism of new building in E. Jerusalem, the debate may be a way of girding himself before agreeing to a new settlement freeze.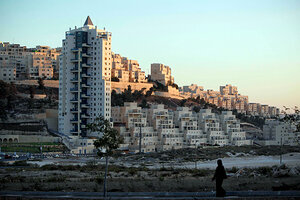 Tara Todras-Whitehill/AP
Israeli Prime Minister Benjamin Netanyahu is engaging the US administration in a high-profile debate over settlement building two days before he meets Secretary of State Hillary Clinton to address the impasse in negotiations.
For Mr. Netanyahu, the very public spat – the first in months – may be a way of girding himself before agreeing to a new freeze of settlements in the West Bank, a move that would infuriate his hard-line critics.
"Assuming Netanyahu will soon reach some kind of a compromise with the administration about a continued freeze in the West Bank, he wants to make sure to neutralize criticism ... [over] a freeze in Jerusalem," says Shmuel Rosner, a commentator for Maariv. "If Jerusalem is on the table, the [right-wing] opposition will have more ammunition with which to attack him."
RELATED: Top 5 reasons Jerusalem is such a thorny issue
Though East Jerusalem was not part of Israel's 10-month settlement freeze that ended Sept. 26, the government had observed a de facto freeze on major building and development in parallel with the West Bank moratorium.
On Friday, however, Israel publicized plans to build more than 1,300 new housing units in East Jerusalem. The new plans, which went unnoticed until Monday, prompted an unusual on-the-record volley of disagreement between the US and Israel on Tuesday.
---