Afghanistan's linchpin: Kandahar
Kandahar is the Taliban's stronghold and target of an allied assault in Afghanistan. Can NATO win hearts and minds as well as territory?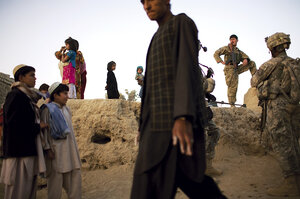 Rodrigo Abd/AP
Near Zangabad, Afghanistan
First came the nightly rocket bombardments, targeting abandoned mud houses about 30 miles southwest of Kandahar City, where Taliban insurgents stored 82mm antitank guns, grenade launchers, and rifles, and where they made bombs and staged attacks on NATO and Afghan forces.
For weeks, NATO and Afghan commando units launched covert raids against Taliban leaders, shattering the insurgency's local command structure. So many commanders were killed that local tribal elders said even they weren't sure who was in charge of insurgent groups any more. The mishmash of vineyards, rivers, and marijuana fields in this slice of Kandahar Province is so easy to defend and so difficult to penetrate that militants and outlaws have sheltered here for as long as anyone can remember.
Then, last month, Afghan and US troops used the cover of night to storm the Horn of Panjwaii – an unruly spit of land posing the last direct threat to Kandahar City; southern Afghanistan's political center and the second-largest city in Afghanistan. Airborne assaults on October 15, 16, and 25 were the culmination of months of fighting in the city's western fringes. Three Afghan National Army battalions – more than 2,000 men – and three companies of US paratroopers rode in on helicopters to attack the cluster of villages of Mushan, Zangabad, and Taluqan, considered key to Kandahar.
---