Despite Hamas-Fatah split, Gaza's sportsmen score a truce. Game on.
Gazans from Hamas and Fatah have overcome the deep political divide to reopen sports clubs, many of which Hamas had turned into police stations and military bases.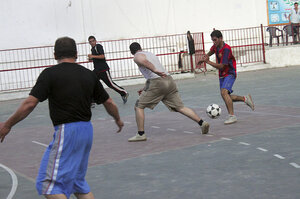 Daniel Estrin
The schoolboys chasing after a soccer ball at Ittihad Al-Shajayia sports club here hardly seem to notice the concrete shell nearby – all that's left of what were the club's offices before Israeli planes bombed them.
And not one boy stopped to admire the large mural that depicts Israel's target: masked militants kneeling next to a rocket launcher.
Gaza's sports fields became battlegrounds in the violence that has shaken this tiny coastal territory in recent years. When the Islamist group Hamas took control of the Gaza Strip from the ruling secular Fatah party in 2007, Hamas commandeered sports clubs and transformed many of them into police stations and military bases. All youth leagues and professional sports games in Gaza stopped.
But today, athletes consider that ancient history. Though the Palestinian infighting still continues, with the two parties set to resume high-stakes reconciliation talks this month, Gaza's sportsmen recently signed a miniature peace deal of their own – and reopened the clubs.
"It's best to separate sports from politics," says Saeb Jundeya, captain of Ittihad Al-Shajayia's soccer team, as he watches the kids play.
Hamas takes over Gaza's 40 main clubs
After Hamas ousted Fatah from Gaza in 2007, the Palestinian Football Federation – affiliated with the Fatah-dominated Palestinian Authority – cut off its funding of Gaza's professional soccer teams.
---