Iran missile system tested, rhetoric sharpened on eve of NATO summit
Iran missile system: Iran tested a new air-defense system and lashed out at NATO as the military alliance prepared to meet this weekend in Lisbon, Portugal. Iran has long sought homegrown air defenses.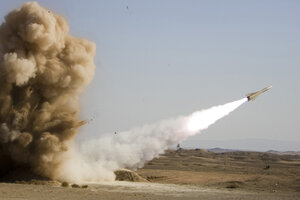 Iranian Army/AP Photo
Iran tested a new air-defense system and stepped up its anti-West rhetoric Thursday on the eve of NATO's annual meeting in Lisbon. At the top of the military alliance's agenda are plans for a missile-defense network in Europe – primarily aimed at Iran's growing ballistic missile capabilities – and the nine-year war in Afghanistan.
President Mahmoud Ahmadinejad declared that NATO had no future, likened the array of sanctions against Iran over its nuclear program to be no more bothersome than a "mosquito," and warned against "thinking as aggressors."
"We regard NATO decisionmakers as politically backward, and their decisions are of no significance to us, because they are incapable of playing a role in future developments," Mr. Ahmadinejad declared. "Experience shows that NATO leaders have had a wrong interpretation of international events and all their decisions are based on false information."
Besides the rhetoric, which comes as Iran and world powers prepare to sit down Dec. 5 to discuss Iran's nuclear programs, the Islamic Republic also this week launched a five-day air defense exercise to showcase home-grown capabilities.
---