Egypt cracks down on Muslim Brotherhood ahead of elections
Sunday's elections are shaping up to be less free than the last vote in 2005, when the Brotherhood tripled its seats in parliament. Today, 700 members are awaiting trial.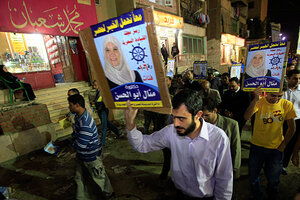 Amr Nabil/AP
Arrests of more than 1,300 political activists, violent dispersals of opposition campaign events, and a reduction of independent poll monitoring all point to a landslide victory for Egyptian President Hosni Mubarak's ruling National Democratic Party (NDP) in this Sunday's parliamentary elections.
In a report out today, Human Rights Watch said a fair election is unlikely, pointing to "mass arbitrary arrests ... and widespread intimidation of opposition candidates."
Reformers had one piece of good news Wednesday – blogger Kareem Amer was released after four years in jail after being convicted for insulting President Mubarak and Islam. At the same time, however, the Egyptian journalist Youssef Shaaban was remanded to custody for a further 15 days in detention. He was picked up trying to cover a protest against a land developer in Alexandria.
But the travails of the Muslim Brotherhood – a banned Islamist political party whose activists technically run as independents – perhaps best show the extent to which the government seeks to ensure the outcome will be to its liking. More important, it could well be a foreshadowing of how the presidential election scheduled for next year will be conducted.
700 Muslim Brotherhood activists await trial
---