How WikiLeaks trove will affect US-Arab cooperation on Iran, Yemen
The WikiLeaks release of diplomatic cables could put Arab leaders in a tight spot – and make America's diplomatic dance a bit more awkward in the region.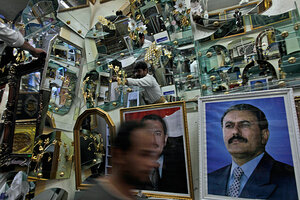 Muhammed Muheisen/AP
The first WikiLeaks release of raw intelligence from the Iraq and Afghanistan wars contained few shocking revelations. But the trove of diplomatic cables released Sunday is something else again, perhaps nowhere more so than for the Middle East.
Though it's too soon to predict what impact they will have on government behavior, these products of US embassies throughout the region starkly contradict the public stances of some regional governments. In particular, they detail the extent to which Saudi Arabia and other Arab powers are afraid of Shiite Iran's nuclear program and growing regional influence – and their consequent willingness to support US-led military action against Iran.
While Iran has been given ammunition in its diplomatic dance with its regional rivals, and some of the countries may face limited blowback from angry citizens, the most immediate impact of the WikiLeaks release may not be a shift in strategy so much as in diplomacy. Arab leaders could well be reluctant to speak candidly with US diplomats, since America's ability to keep such conversation private has now been cast into doubt.
---