Israel greets WikiLeaks cables as vindication of its Iran policy
The latest WikiLeaks release of documents gives Israel proof that its Arab neighbors, even those that are sworn enemies of the Jewish state, share its concerns about Iran.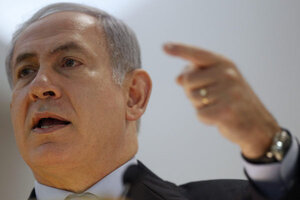 Nir Elias/Reuters
Wikileaks' publication of US diplomatic cables could have sparked a fresh controversy between Israel and its most important ally after a year of strained relations.
But instead, Wikileaks' release of the documents on Sunday has proved to be something of a public relations coup for Israel: on-the-record confirmation that its Arab neighbors are just as frightened as the Jewish state by a nuclear Iran. The cables confirmed previous anonymous reports that Israel has quiet partners in the region pushing the US to take bolder steps to stop what they consider an existential threat.
"I don't see any damage. Quite the opposite,'' said Israeli Finance Minister Yuval Steinitz, in an interview with Israel Radio. "Maybe there's an indirect benefit that the truth is coming out, that the entire Middle East, including Arab states, are very fearful from the Iranian nuclear threat, and are calling on the West to be much more aggressive toward Iran.''
Candid assessments from Arab states
---