Israel wildfire exposes gaps in emergency preparedness
As international help pours in to quench an unprecedented Israeli wildfire, many are asking whether the country is equally unprepared to deal with an Iran or Hezbollah missile attack.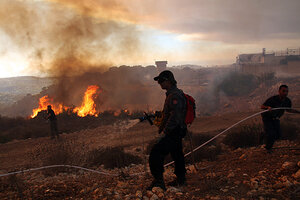 Avishag Shar-Yeshuv/AP
Firefighters struggled for a second day to overcome a deadly blaze in the Carmel mountains outside of the northern Israel city of Haifa, as fire trucks flown from European countries arrive to help extinguish the worst fire in the history of the Jewish state.
The brushfire disaster has claimed at least 42 lives and marked the first time that Israel – which prides itself on dispatching emergency personnel to disasters abroad – has found itself appealing for international assistance. Israel's police chief said the fire wouldn't be brought under control before Saturday afternoon.
The seeming lack of preparedness for the fire, in a country where emergency drills are commonplace, has prompted many commentators to suggest that if Israel is unable to beat back a wildfire, it cannot proclaim to be prepared for manmade calamities – possible attacks from Iran or another war with Hezbollah.
One Israeli cabinet minister acknowledged the "problematic picture" emerging – a fire service that despite warnings of emergency officials and government officials was ill-equipped to deal with such a large emergency.
---