Q&A: Why only 51 percent of Israelis support equal rights for Arab minority
A survey released this week showed stark views of the country's Arab minority, whose growing presence is challenging Israel's claim to being 'Jewish and democratic.'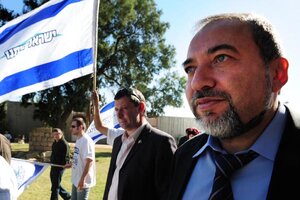 Newscom
The Israeli Democracy Institute (IDI) this week published their annual survey on democratic practices in Israel, which characterizes itself as both democratic and Jewish. But as Israel's Arab minority grows – already it accounts for 20 percent of the population – the compatibility of those dual ideals is being challenged.
Here is a look at this minority and its place in Israel today.
How big is Israel's Arab minority?
During the 1948 Arab-Israeli war, the overwhelming majority of Palestinians were dispersed throughout the Arab world – either by fleeing or being forced out. But about 150,000 Palestinians remained inside Israel. Today, they and their descendants number 1.5 million, or 20 percent of Israeli citizens.
Palestinians who live in the West Bank and Gaza Strip – many of whom are relatives – refer to them as the "Palestinians of '48."
Israelis refer to them as Israeli Arabs. They are separate from the Palestinians of East Jerusalem, who refused Israel's offer of citizenship after it captured the territory in 1967 in an act of annexation that was condemned by the United Nations Security Council. Instead, they became permanent Israeli residents.
Are they equal in Israel's democracy?
Israel's 1948 Declaration of Independence promised "full and equal citizenship and due representation" for Arab citizens of the state. Today, Israeli Arabs enjoy voting rights and welfare benefits similar to those of Jewish citizens. But none of Israel's national symbols, such as the Star of David flag, represent their heritage.
---