Egypt runoff election tightens ruling party's grip
The Egypt runoff election could leave President Hosni Mubarak's ruling party with as many as 97 percent of the seats in parliament.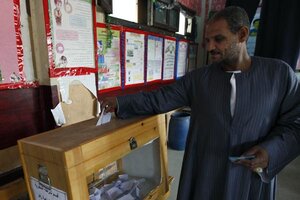 Nasser Nasser/AP Photo
The runoff election to fill the seats in Egypt's parliament yesterday was hardly a nail biter: after a fraudulent first round of voting last week and a decision by opposition parties to withdraw from the race, the result was largely a foregone conclusion.
While the final tally will not be released until later this week, it appears that the ruling party will claim about 97 percent of the seats in parliament, up from about 73 percent following the 2005 election, which was itself marked by ballot stuffing and intimidation of voters in favor of the ruling National Democratic Party. That has left the largely rubber-stamp parliament without even the fig-leaf of "opposition" that Egypt's leaders have traditionally pointed to when claiming that the country is not, in fact, an autocracy.
The result has repudiated the strategy of opposition groups like the Muslim Brotherhood to slowly accumulate political representation through elections in the hopes that it would eventually amount to something. A signal has been sent that whoever runs for president in elections scheduled for September 2011 – President Hosni Mubarak will be 83 years old by then – that the opposition and voters will have no say in the outcome.
---