Iran resumes nuclear talks, but decries nuclear scientist's assassination
Iranian media emphasized Iran's tough opening gambit in Geneva, where it condemned the West for its silence over an Iranian nuclear scientist's assassination last week.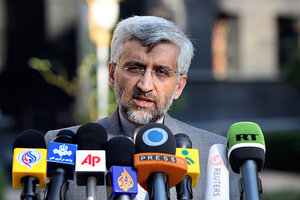 Vahid Salemi/AP
Amid low expectations and divergent views on Iran's nuclear program, the Islamic Republic resumed talks with world powers in Geneva on Monday after a 14-month lull.
The storyline is now familiar: Iran's chief negotiator Saeed Jalili will have demanded that the West accept Iran's uranium enrichment and its "right" to peaceful nuclear power, and stated that the "pressure" of sanctions was pointless.
And EU foreign affairs chief Catherine Ashton and other top diplomats will have demanded that Iran stop that enrichment – as required the United Nations Security Council – and prove it is not aiming for nuclear weapons.
News reports from Geneva suggested that nuclear issues consumed much of the agenda, despite Iran's insistence that the subject – the one of most concern to the world powers – would remain off limits.
---