Lebanon tribunal on Hariri assassination set to issue first indictments
An international tribunal investigating the 2005 Hariri assassination in Lebanon will focus on Hezbollah in its first indictments this month. But it still sees Syria as playing a key role.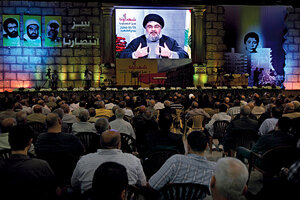 Bilal Hussein/AP
A murder mystery that has gripped Lebanon and much of the Middle East for nearly six years is nearing a climax. This month a Netherlands-based international tribunal is expected to issue the first set of indictments in its investigation into the 2005 murder of former Lebanese Prime Minister Rafik Hariri, who was killed in a massive bomb blast that rattled Beirut and shook Middle East politics.
Although the United Nations-sanctioned tribunal has remained tight-lipped, it's widely speculated that members of Hezbollah, the powerful Lebanese Shiite militia with ties to Iran and Syria, will face charges.
While some Lebanese believe the tribunal is necessary to end the era of assassinations and bloodshed, others fear that laying blame for Mr. Hariri's murder on Hezbollah could end the relative calm of the past two years and return Lebanon to political paralysis and possible violence.
How focus shifted from Syria to Hezbollah
Lebanon, despite being a small country of some 4 million people, punches well above its weight in the region. It is strategically placed between enemies Syria and Israel, and its multitude of diverse religious sects draws regional powers – including heavyweights Iran and Saudi Arabia – to vie for influence here.
---