US admits defeat on Israeli settlement freeze. Can it still broker peace?
In the wake of Argentina and Brazil's formal recognition of a Palestinian state, some are calling on the US to step in with a peace plan of its own.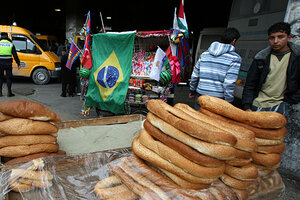 Abbas Momani/AFP/Newscom
The US admission that it has given up on securing an Israeli settlement freeze, coupled with Latin American's growing support for Palestinian statehood – with or without a peace deal – has pushed the faltering Israeli-Palestinian peace process to the brink.
Late yesterday, a senior US diplomat said that the Obama administration, which had made a settlement freeze the kingpin of its peacemaking efforts, had dropped its bid to secure a second moratorium from Israeli Prime Minister Benjamin Netanyahu, whose right-wing coalition partners had strongly opposed such a measure.
Argentina on Monday followed Brazil in recognizing a "free and independent" Palestine, handing Palestinian Authority President Mahmoud Abbas a symbolic victory as peace talks appear to unravel. Uruguay has promised a similar declaration early next year, and Chile, Paraguay, and Peru are also expected to follow suit.
While Latin America's support may be a boost to Palestinian morale, some analysts say the recent recognition letters from Argentina and Brazil are symptomatic of an Israeli-Palestinian peace vacuum that needs US intervention. Washington, they say, should reassert itself by issuing a plan that will force the sides back into bilateral peace talks.
---