Israeli and Palestinian negotiators fault US focus on settlements
Both sides, together with the US, appear to be regrouping after the Obama administration gave up on securing another settlement freeze.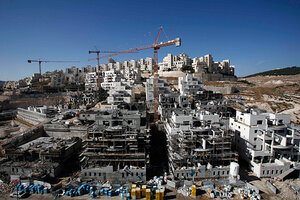 Baz Ratner/Reuters
The US decision to give up on securing an Israeli settlement freeze has left Palestinian President Mahmoud Abbas disappointed, Israeli Prime Minister Benjamin Netanyahu with a momentary victory, and observers criticizing the Obama administration's peacemaking strategy.
Indeed, analysts and seasoned negotiators see Tuesday's announcement as the end of a mishandled chapter in Arab-Israeli diplomacy, in which Washington's overriding focus on settlements ultimately failed.
Instead of convening negotiations on borders, Jerusalem, and Palestinian refugees, the process came to a dead end with each side blaming the other for the failure.
"It looked like the American exercise was going into futility,'' says Nabil Shaath, a veteran Palestinian negotiator who alleges that Mr. Netanyahu's stated support for negotiations is insincere. "We are not going back to negotiations with Israelis. It won't work. [Netanyahu] hasn't shown one iota of interest in discussing the permanent settlement.''
Back to the drawing board
---