As Hanukkah closes, menorahs have flickered in surprising place: Iran
Iranian Jews, who have been celebrating Hanukkah this week along with Jews around the world, are eking out a tenuous existence amid escalating Iran-Israel rhetoric.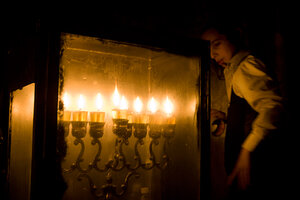 Sebastian Scheiner/AP
As Jews around the world celebrate Hanukkah this week, menorahs are burning in a surprising corner of the world: Iran.
Home to Jews – including the biblical Esther – for 3,000 years, the land today is sprinkled with synagogues that serve the Middle East's largest community of Jews after Israel.
At recent services in the Joybar synagogue in Tehran, one of 20 in the capital city, Iranian Jews streamed in until the hall, decorated with gold, wooden, and velvet relics. More than 200 attendees read from prayer books printed in both Hebrew and Farsi.
Inside, the men wear the kippa, a Jewish religious head covering. The women cover their hair with their hijab, adhering to the Orthodox Jewish custom of covering their hair while also abiding by the laws of the Islamic Republic of Iran.
"It is safe for us in Iran, for Jews. But we always have to be careful. We know that we should stay with our community. We should not become close to Muslims. If we do, it will only be trouble," says Rachel, a young woman who attended services recently with her toddler son.
There is official acceptance of the Jewish presence in Iran – Jews, along with Christians and Zoroastrians, are allowed a representative in parliament and provided with special family law courts. But as Israel heightens its rhetoric against Iran – WikiLeaks cables this week revealed an Israeli plan for regime change and support for a military strike this year – Iranian Jews find themselves in a tight spot.
Siamak Marreh-Sedq, the sole Jewish representative to the Iranian parliament, argued recently that Israel would never attack Iran.
---