Palestinian nonviolence: Is the Budrus model still viable?
The recent film 'Budrus' champions a West Bank village's nonviolent resistance that inspired more than 15 similar protest movements. But the momentum is waning.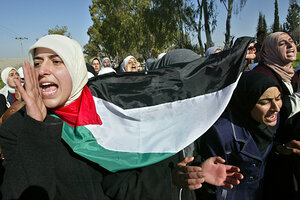 Menahem Kahana/AFP/Getty Images/Newscom
With Middle East peace talks on the brink after the US this week gave up on an Israeli settlement freeze, Palestinians are reevaluating their options for securing statehood.
Amid disappointment with both negotiations and violence, a documentary film now showing around the globe highlights the nonviolence protest movement as a hopeful alternative.
The film, called "Budrus," champions the West Bank village of the same name as a model of nonviolent resistance. It profiles the 2003 struggle of a Palestinian father and daughter who brought together Fatah, Hamas, and even Israelis, to prevent their village from being divided by the Israeli separation barrier.
After 10 months of protests, Israel scrapped its plans to put 300 acres of Budrus's land on the Israeli side of the wall, instead rerouting the barrier, says Ayed Morrar, who led the demonstrations.
LIST: Five largest Israeli settlements: who lives there, and why
Budrus's success has spurred at least 15 similar movements in towns across the West Bank, perhaps most notably in the central West Bank village of Bilin. The protests stand out against earlier forms of resistance to Israeli rule, such as the suicide bombings of the second intifada that began in 2000.
---