Ahmadinejad abruptly sacks foreign minister in favor of nuclear chief
Iran's President Mahmoud Ahmadinejad replaced Foreign Minister Manouchehr Mottaki in a move that is likely to solidify Iran's united front toward the West.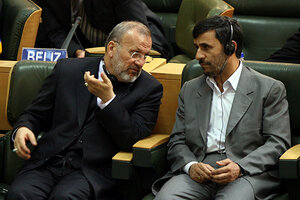 Hasan Sarbakhshian/AP/File
Iran's arch-conservative president, Mahmoud Ahmadinejad, summarily fired his foreign minister on Monday, replacing him with atomic chief Ali Akbar Salehi.
The jilted Foreign Minister Manouchehr Mottaki was in Senegal on an official visit when Mr. Ahmadinejad thanked him for his "diligence and services" in a terse statement. He said he hoped Mr. Mottaki's "efforts receive praise by God and [that] you will be successful in the rest of your life," according to the official IRNA news agency.
Though the Foreign Ministry does not craft Iran's nuclear policy – negotiations are conducted by the head of the Supreme National Security Council, and all final decisions made by Iran's supreme religious leader – the move is likely to solidify the united front the regime tries to portray toward the West.
Mottaki's replacement long rumored
The decision to remove Mottaki has long been rumored, especially since Ahmadinejad several months ago appointed a group of regional foreign policy envoys, in parallel – and in apparent competition with – the Foreign Ministry. Mottaki was reported to have offered to resign at the time.
"This is the right move … for President Ahmadinejad, because he is sending the right signal to the West that Iran is trying to change its foreign policy and strategy," Ghanbar Naderi, a Tehran analyst, told Al Jazeera English.
---