Israel repatriates 150 Sudanese in broader effort to discourage African influx
The number of Africans crossing into Israel illegally doubled in 2010, prompting a number of government measures – including yesterday's repatriation.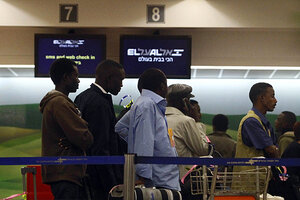 Uri Lenz/AP
Israel repatriated some 150 Sudanese asylum seekers on Monday night, the latest effort to stem a surge of Africans illegally crossing from Egypt to find work and refuge from instability at home.
The Sudanese were sent home voluntarily – reportedly with $500 parting stipends from the government – with the assistance of the Office of the United Nations High Commissioner for Refugees.
But migrant rights advocates said the Sudanese left because of hardened government sanctions against the migrants, risking their safety just ahead of a Jan. 9 secession referendum for the south that could cause new turmoil.
"What does voluntary mean? Systematically, the government is forcing them to go because they aren't providing them assistance,'' says Yohannes Bayu, an Ethiopian refugee in Israel who heads the African Refugee Development Center. "People are telling me that its better to die there than to die here because I cannot support my family here.''
Surge in Africans crossing illegally into Israel
The number of Africans who sneak across the open desert from Sinai into Israel more than doubled in 2010, bringing the total number of Africans who have crossed illegally into Israel to about 32,000, according to the Interior Ministry.
---