UN lifts Saddam-era sanctions on Iraq, ending a dark chapter
The Iraq vote at the normally dour UN yesterday was marked by unusual applause, at times feeling like a coming out party for a new nation.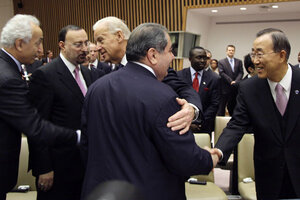 AP Photo
Iraq closed another chapter on the Saddam Hussein era Wednesday when the United Nations Security Council lifted most of the sanctions that it had imposed after the late ex-dictator's invasion of Kuwait 20 years ago.
With Vice President Joe Biden serving as chairman, the council voted unanimously to lift restrictions aimed at stopping Iraq from acquiring nuclear, chemical, and biological weapons. It also formally ended a notoriously mismanaged oil-for-food aid scheme that Saddam's regime had used to steal billions of dollars meant to help Iraqis survive the sanctions.
The moves were largely symbolic: Iraq is signatory to the main international nonproliferation treaties and its Constitution bars it from acquiring weapons of mass destruction, while the oil-for-food program has been defunct for years.
But US and Iraqi officials said the lifting of the sanctions is a powerful statement that Iraq is finally emerging from a post-Saddam era marked by sectarian war and political crisis.
"Iraq is on the cusp of something remarkable: a stable, self-reliant nation; a just, representative, and accountable government; and a positive force for peace and stability in the region," Biden told the 15-nation council meeting at UN headquarters in New York.
Unusual applause at the UN
---