With Mideast peace talks adrift, the US searches for Plan B
With the Obama administration's big idea to restart Israeli-Palestinian peace talks – a settlement freeze – abandoned, the region is skeptical about American leadership.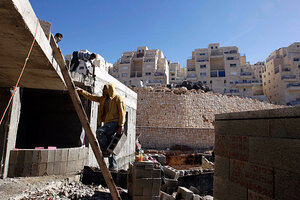 Ammar Awad/Reuters
Soon after the US announced last week it would abandon an 18-month demand for an Israeli settlement freeze to advance peace talks with the Palestinians, state department spokesperson PJ Crowley insisted that the US would not start over with a blank slate.
But after US envoy George Mitchell wrapped up a regional trip with little to show for it, the Obama administration's engagement with the Palestinian-Israeli negotiations appears rudderless. Palestinians say trust in the US mediation is running out.
"Up until now the Americans haven't fulfilled anything that they promised to the Palestinian leadership: George Bush promised at Annapolis that within two years there would be a Palestinian state. President Obama talked about freezing settlements, and now he is giving up,'' says Hana Sinora, the codirector of the Israel Palestinian Center for Research and Information. "[Palestinians] don't believe that the US will be able to squeeze anything out of (the) present government.''
Arabs reject talks without ground rules
---
Follow Stories Like This
Get the Monitor stories you care about delivered to your inbox.