Ahmadinejad cuts Iranian subsidies, quadrupling the price of gas
President Ahmadinejad has made it a priority to cut subsidies on daily essentials such as gas, water, and flour that have cost Iran as much as $100 billion a year since 1979.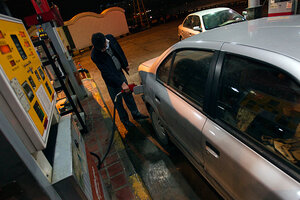 Morteza Nikoubazl/Reuters
Iran began taking dramatic steps over the weekend to remove subsidies on fuel, food, and other essentials, in a politically risky move that overnight quadrupled the price of gas and increased the price of diesel ninefold.
President Mahmoud Ahmadinejad said the ambitious plan was a critical step in dealing with Iran's ailing economy – burdened by both mismanagement and four rounds of United Nations sanctions – and promised that the compensation scheme of $40 per person per month would benefit 60 percent of Iran's population.
While many recognize the huge cost the subsidies have imposed on the economy – the government says it spends $100 billion every year, though experts suggest it could be one-third that – there has also been strong criticism, including from economists, politicians, and citizens.
RELATED: Why Iran's Ahmadinejad is pushing to cut popular government subsidies
Riot police were deployed at some gas stations in Tehran on Sunday to prevent a repeat of the 2007 violence and protests that came after fuel rationing was announced – stealthily, and late at night. So far there have been no reports of unrest due to the long-expected plan.
"I ask the people not to hoard gasoline because it carries many dangers. God forbid, accidents could happen," Mr. Ahmadinejad said on live television, when announcing that the first phase of subsidy cuts would begin on Sunday.
The Iranian president invoked the Shiite Messiah, the Mahdi, when describing the compensation plan, noting that two months' worth had already been deposited into personal bank accounts to be withdrawn from Sunday onward.
---