Iraq's new government raises hopes even as key ministries go unfilled
Iraq unveiled a broad-based government Tuesday that includes all the country's major religious and ethnic factions. The key security and military affairs ministries remain open.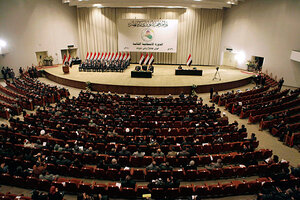 Karim Kadim/AP
Iraq unveiled a new and broad-based government Tuesday that comprised all its major religious and ethnic factions and raised hope that the country's nine-month political impasse could finally be over.
Prime Minister Nouri al Maliki's Cabinet, however, leaves open the key ministries responsible for security and military affairs for now, because lawmakers haven't agreed on who should fill them. There's still no deal, either, on creating a yet-to-be-named strategic council — a U.S.-backed initiative aimed at curbing Maliki's powers — which lawmakers said could be weeks away.
The gaps could yet unravel the long and extremely contentious process of forming the new government, which has left Iraq adrift and unhappy for most of the year even as violence dropped to its lowest levels since 2003 and the U.S. military withdrew all but 50,000 of its troops.
The remaining U.S. forces are due to depart over the next 12 months, a crucial period during which Iraq's new government will be expected to address a staggering roster of challenges. These include: maintaining security, rebuilding the economy and infrastructure, creating jobs, resolving boundary disputes, regulating the oil sector, integrating militias into the armed forces and drumming up foreign investment for a country that's still widely regarded as a conflict zone.
---