Palestinian refugee camp in Lebanon becoming less of a hotbed for militancy
The recent murder of a top Al Qaeda-inspired militant and an exodus of other militants may signal increased stability, due in part to cooperation between Fatah and Islamist factions.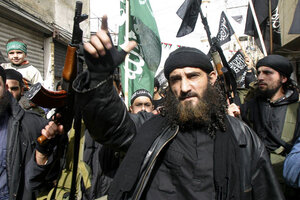 Ali Hashisho/Reuters
Ain al-Hilweh refugee camp, south Lebanon
The murder of a senior Al-Qaeda-inspired jihadi and the exodus of other militants from here in recent months may herald some welcome stability for this impoverished Palestinian refugee camp.
With some 70,000 Palestinian refugees squashed into little more than a square mile near Sidon, Ain al-Hilweh lies outside the jurisdiction of the Lebanese government and has long been plagued by Islamic radicalism and factional violence.
But a tacit agreement for calm between a coalition of Islamist factions and the Fatah movement of Palestinian Authority President Mahmoud Abbas has left little space for militants seeking to plot and stage attacks against the Lebanese state or foreign targets in Lebanon.
"Fatah and the Islamic groups are working together. The security of the camp is a red line," says Mahmoud Issa, popularly known as Lino, a top Fatah official in the camp. He heads up Fatah's Armed Struggle Faction in Lebanon, which is responsible for maintaining order in the country's Palestinian refugee camps.
Dwindling band of militants
Ghandi "Abu Ramez" Sahmarani, the middle-aged leader of the now defunct Sunni jihadist faction Jund ash-Sham, was found dead in a car park at dawn last Saturday. He reportedly was tortured and executed. There was no claim of responsibility for his death and, unusually, it has not triggered any serious reprisal violence. A small bomb explosion the next day against a shop owned by a figure in the Fatah movement was quickly played down.
---