In Syria, a kernel of democracy
The Iraqi refugee crisis in Syria helped open the door for aid and rights groups, serving as one catalyst in the strengthening of civil society.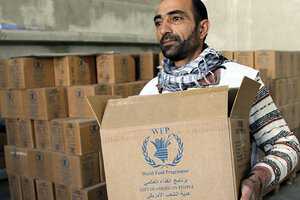 Khaled al-Hariri/Reuters
Syria's one-party regime is not accustomed to vibrant public campaigns overturning government decisions.
But with the number of development organizations as much as tripling over the past six years, and the Iraqi refugee crisis awakening leaders to the need for outside help, Syria is gradually allowing aid and rights groups to operate more freely in the country. This has allowed such organizations to influence public discourse in ways that would have been unthinkable in the past.
RELATED – Press Freedom Index: Where Syria fits in
One of the most explicit examples of this came in May 2009, when the Syrian government proposed draconian restrictions on women's rights. The draft law would have effectively placed a woman's right to work, study, and travel outside the home in the hands of her father or, once married, her husband.
"It was very bad," says Bassam al-Kadi, director of Syrian Women's Observatory, a nongovernmental organization based in Damascus. "We named it the Taliban draft."
But women's organizations and civil society activists began mobilizing against it. By July, the proposal had been shelved, and the Ministry of Justice vowed to "reconsider the subject in coordination with all parties concerned."
To date, the draft has not been reintroduced. According to Mr. Kadi, "The regime considered the power balance in the country, and determined that there was no other way but to open doors to civil society."
More than a year later, while restrictions continue, activists are building more organizations and more effective networks, with support from some surprising quarters, including the president's wife.
Civic action in Syria as early as 1556
---