Why Iran left the US off invite list for tour of nuclear sites
Iran's invitation to Russia, China, and other nations to visit its nuclear facilities is seen as an attempt to magnify divisions in the international community ahead of talks later this month.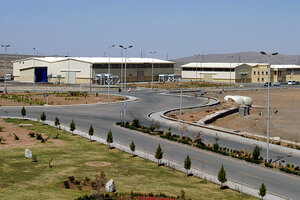 Raheb Homavandi/Reuters/File
Iran has invited diplomats to visit its nuclear facilities, but left America and key European nations off the guest list ahead of the next round of nuclear talks slated for later this month in Istanbul.
In an apparent bid to magnify divisions in the international community and thus ease sanctions over its controversial nuclear program, Iran has invited Russia and China – two of the six world powers involved in the talks, which have shown most reluctance to increase pressure on Iran – to tour nuclear sites in mid-January.
But not included were four key members of the P5+1 negotiating group that have been most critical of Iran. The US, Britain, France, and Germany claim that Iran wants to build nuclear weapons behind the facade of a peaceful power program.
"The Iranians are always trying to divide the coalition, and I think the point of the meetings [for the Iranians] is not to resolve the problem, but to deflect pressure for more sanctions, by demonstrating that Iran is not recalcitrant," says Shahram Chubin, an Iran nuclear expert with the Carnegie Endowment based in Geneva.
---