Egypt's Copts boldly celebrate Christmas despite threat of further attacks
An Egyptian Christian spoke for many attending worship services for Coptic Christmas today, when he said, 'The love of our Lord is stronger than hate.'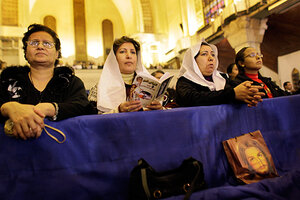 Ben Curtis/AP
Coptic Christians celebrated Christmas amid heavy security Friday after the bombing at an Alexandria church on New Year's Eve killed 23 and injured nearly 100.
Security forces filled the streets in front of churches throughout Cairo and prevented vehicles from stopping in front of them as Christians went to Christmas Eve services Thursday night.
In Cairo's Shubra neighborhood, where hundreds of Christians protested for days after the bombing, worshipers said they came to celebrate Christmas despite their fears that they might be targeted again. Jihadi websites had circulated the names and addresses of churches in Egypt and urged followers to attack on Christmas.
"We worry about another attack, but we put our trust in God," said Mary Mishra'y outside a Shubra church. "We would consider it an honor to be martyred like those in Alexandria."
Many echoed her sentiments, and the usually joyful mood was somber as people in dark clothing navigated the security cordon to attend services.
At some churches in Cairo and Alexandria, Muslims attended services or gathered outside Thursday evening to show solidarity with Christians. Prominent Muslims, including President Hosni Mubarak's two sons, attended the service at St. Mark's Cathedral, the seat of the Coptic pope. But at many churches, police were checking national identity cards and allowing only Christians to enter, so Muslims stood outside, some holding signs against terrorism and sectarianism.
In his sermon at St. Mark's, Pope Shenouda III mourned those killed in Alexandria. "I echo President Mubarak's remark that the blood of our sons is not cheap," he said.
---