What Hezbollah wants from Lebanon's next government
Talks in Lebanon to form a new cabinet are set to begin Monday. Hezbollah pulled support from the government over opposition to a tribunal investigating the 2005 Rafik Hariri assassination.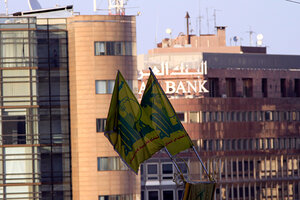 Jamal Saidi/Reuters
While the collapse of its coalition government throws Lebanon back into political turmoil, this latest crisis for a nation accustomed to strife is unlikely to turn violent on the streets.
With Prime Minister Saad Hariri planning to return to Lebanon late Thursday from a globetrotting series of meetings with world leaders, consultations to select a new prime minister and form a new cabinet are expected to begin Monday. Still, finding a solution will not be easy given the bitter political divide in Lebanon over how to handle an international tribunal investigating the 2005 assassination of Rafik Hariri, a former prime minister and father of the current premier.
"This country does not have a mechanism to deal with this kind of conflict if there's no regional agreement of some kind," says Karim Makdissi, a professor of politics at the American University of Beirut (AUB). "I don't see how any faction in Lebanon can gain from this. I think it's a lose-lose situation for everyone…. And of course ordinary people across all the [Lebanese] regions and sectors are going to suffer."
Lebanon's 30-seat government collapsed Wednesday with the resignations of 11 ministers, including all 10 representing the parliamentary opposition headed by the militant Shiite Hezbollah. The abrupt move came after weeks of governmental deadlock and the failure of a regional mediation effort between Syria and Saudi Arabia to forge an amicable compromise.
---