US sends ambassador to Syria for the first time in six years
US ambassador Robert Ford faces a daunting list of diplomatic concerns in Syria. If he fails to make headway, the Senate could bring him home by year's end.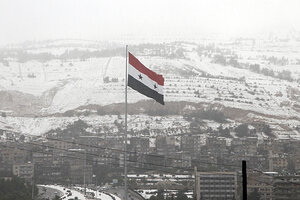 Khaled al-Hariri/Reuters/File
After nearly a six-year frost in US-Syrian diplomatic relations, newly appointed American ambassador Robert Ford is scheduled to arrive tomorrow in Damascus, where he will face a daunting list of diplomatic concerns.
The icy relations between Damascus and Washington during the Bush era may have thawed somewhat, but President Barack Obama's efforts to reengage have made little headway on key issues. They include:
• a resumption of long-stalled peace talks between Syria and Israel
• an investigation into suspected Syrian nuclear sites by the International Atomic Energy Agency
• Syrian support for organizations such as Lebanon's militant Shiite Hezbollah and Palestinian Hamas, both of which are designated by the US as terrorist groups
• Syrian influence in Lebanon, its tiny neighbor to the West which has plunged once more into crisis with the collapse on Wednesday of the coalition government.
RELATED: What Hezbollah wants from Lebanon's next government
Washington recalled its previous ambassador, Margaret Scobey, for "urgent consultations" in February 2005, a day after the assassination of former Lebanese prime minister Rafik Hariri, in which Syria was widely suspected as a culprit. Although there was no formal severance of diplomatic relations, Ms. Scobey never returned to the embassy in Damascus.
---