Tunisian protests shake one of the most repressive Arab regimes
Tunisian protests serve as a red flag for other Arab autocracies, such as Egypt, where protesters yesterday called for President Mubarak to get on a plane, too.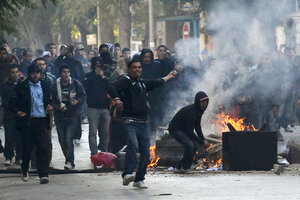 Christophe Ena/AP
Unprecedented protests in Tunisia have deeply shaken one of the Middle East's most repressive regimes, forcing the president that ruled Tunisia for 23 years to step down.
Combined with unrest in neighboring Algeria and Jordan over food and fuel prices, the Tunisian protests serve as a startling red flag for other autocracies across the region, which have long dismissed warnings that maintaining stability through suppression may backfire.
In particular, Egypt, the Arab world's most populous country, is home to a bulging youth population that has a far harder time landing jobs than other segments of society. Its tightly managed political system, headed by President Hosni Mubarak for nearly three decades, has left little room for dissent.
After Tunisia President Zine al-Abidine Ben Ali fled to Saudi Arabia on Friday, protesters in Cairo chanted, "Ben Ali, tell Mubarak a plane is waiting for him, too!"
"Tunisia is a warning for the Egyptian regime," says Diaa Rashwan, an analyst at the Al-Ahram Center for Political and Strategic Studies in Cairo. "It's a warning, and any rational regime would take action to address it. But I don't think Egypt has any strategy for addressing it."
---
Follow Stories Like This
Get the Monitor stories you care about delivered to your inbox.