Hariri tribunal launches legal case, prompting protests in Lebanon
The Hariri tribunal indictments submitted yesterday mark the first time that a legal case has been launched against suspects on a political assassination in Lebanon.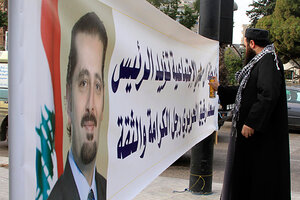 Mohammed Zaatari/AP
Shiite supporters of the Hezbollah-led parliamentary opposition assembled on the streets of several Beirut neighborhoods early Tuesday, a trial show of force that panicked some schools into closing and sent a tremor of unease through the Lebanese capital.
The street gatherings, which were peaceful and lasted for about two hours, came a day after an international tribunal investigating the murder of Rafik Hariri, a former Lebanese prime minister, submitted indictments for a pretrial legal assessment. Details of the indictments remain confidential for now, although it has been widely reported that they will name members of the militant Shiite Hezbollah.
"This is an important moment for the people of Lebanon. It marks the launch of the judicial phase of the tribunal," Daniel Bellemare, the prosecutor for the Special Tribunal for Lebanon, said in a video-taped statement. "For the first time, a legal case has been launched against those responsible for a political assassination in Lebanon."
Herman Von Hebel, the tribunal's registrar, said that the first trials could begin in September or October "if all goes well." He added that they could be held in absentia if none of the indicted are arrested and brought to the Netherlands.
Hezbollah threatens strong backlash
---