Tunisian events likely to spark wider Arab reforms, but not revolutions
A number of copycat self-immolations across the Middle East are raising questions about whether the protests that drove Tunisia's Ben Ali could soon threaten other Arab autocrats.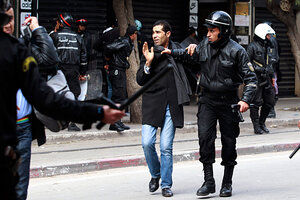 Zohra Bensemra/Reuters
Few narratives of political change are as powerful as that of Tunisia, where the decision of a 26-year-old college graduate to set himself on fire – to protest the police seizure of his produce cart, for lack of permits – set off a revolution that toppled an authoritarian president.
Even before the escape of President Zine el-Abidine Ben Ali to Saudi Arabia on Friday, other men began to immolate themselves in nations across North Africa afflicted by poverty, unemployment, and corruption, in apparent copycat attempts to spark similar upheavals in their countries.
But analysts say that while Tunisia's so-called "Jasmine Revolution" has shocked the Arab world – rulers and ruled alike – it is unlikely to result in a chain of similar revolutions, but rather wider political reforms.
"I don't think we are going to witness a domino effect [or] a revolution that sweeps all Arab leaders away," says Fawaz Gerges, the director of the Middle East Center at the London School of Economics (LSE).
"But we might witness now a qualitatively different type of Arab politics [because] the social uprising in Tunisia has sent shockwaves through the veins of Arab rulers … this is a very unique moment in modern Arab history," says Mr. Gerges. "What has distinguished contemporary Arab politics in the last 50 years is political apathy and fear. [Tunisia] has shattered the myth, the claim that Arabs will not dare to rise up against tormentors, against their dictators."
---