Israel concerned about possible fallout from Lebanon government split
As regional efforts to mediate Lebanon's political standoff fail, Israelis nervously watch their border with Lebanon and wonder whether potential violence will spread to Israel.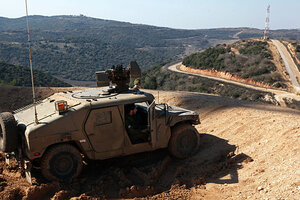 Yaron Kaminsky/AP
The Lebanese political crisis, triggered by Hezbollah's departure from government last week, has Israel worried that the situation could become violent and spill over the Israel-Lebanon border.
Regional efforts to mediate between Prime Minister Saad Hariri's bloc and the Hezbollah-led opposition failed today, with Turkey and Qatar giving up a day after Saudi Arabia pulled out.
The divide focuses mainly on whether Lebanon should participate in a United Nations tribunal investigating the 2005 assassination of Hariri's father, Rafik. The tribunal's first indictments are expected to target several members of Hezbollah, which has threatened to retaliate.
Israel is concerned that Hezbollah, which fought Israeli troops to a stand-still in a brief 2006 war, might stir tensions along the border in order to prove it is an indispensable line of defense against Israel – and thus gain the upper hand in the domestic stand-off.
"People are worried that things could get out of control,'' says Eyal Zisser, a professor of political science at Tel Aviv University, "and that Hezbollah will want to divert attention from domestic problems in Lebanon, and the result will be an escalation on the border.''
---