In Jordan, Islamists try to spin popular protests into political uprising
Nationwide protests in Jordan have focused mainly on economic issues. But the Muslim Brotherhood seeks to make them a catalyst for political reform.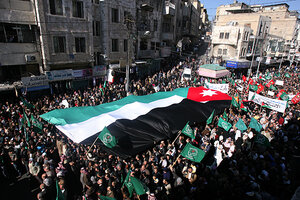 Nader Daoud/AP
Young people in the street waving baguettes and decrying unemployment rates, rising prices, and the government – protests in the Jordanian capital today unmistakably resembled the popular uprising in Tunisia.
Rather than a revolutionary movement, nationwide protests in Jordan have instead highlighted a rift between traditional government supporters in rural areas and a rising urban elite, analysts say.
As other Arab regimes struggle to find ways to deal with the ripples of Tunisia's so-called "Jasmine Revolution," Amman has rushed to reassure the conservative bedrock of the Hashemite Kingdom with economic incentives.
While it is yet to be seen whether the new measures will satisfy citizens, the pressure is on for Amman to outmaneuver the Islamist opposition, who are attempting to transform an economic crisis into a political debate.
'Political reform key to fixing economic problems'
At first slow to harness the growing discontent, the Muslim Brotherhood led today's demonstrations and is trying to link Jordan's economic woes with the need for greater political freedoms.
In addition to lowering taxes, the opposition has called for a new elections law based on proportional representation, electoral redistricting, even proposing constitutional reforms to have the position of prime minister selected by the people, rather than the king.
"Our message is that political reform is the key to fixing all social and economic problems. We need a new unity government and early elections for a democratically elected parliament representing the people that can handle these challenges," said Muslim Brotherhood Spokesman Jamil Abu Baker.
---