Why Iran nuclear talks ended in stalemate
Nuclear talks between Iran and six world powers ran aground on Iranian preconditions about enrichment and sanctions; no plans to meet again.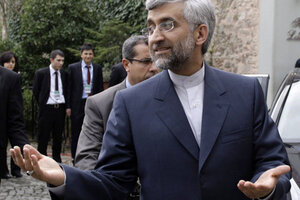 Ibrahim Usta/AP
Iran and six world powers failed to make any progress during two days of talks in Istanbul, raising questions about the future of diplomacy over Iran's controversial nuclear program.
The talks hung up on two preconditions laid down by Iran at the outset: that its right to enrich uranium be acknowledged, and that all sanctions be lifted.
Despite deliberations that stretched almost to midnight Friday – and several proposals put on the table for Iran to consider ­­– diplomats ended talks Saturday with no plans to meet again.
American and European negotiators expected more from Iran after preliminary meetings in Geneva last month, since diplomatic stalemate here will boost efforts in Congress for more sanctions as Washington exercises the "pressure" side of its dual-track policy.
And Iran appears to have overreached by misjudging the willingness of the P5+1 – the United States, Russia, China, Britain, France, and Germany – to step away from a process it had come to see as pointless.
---