How leaked Palestinian documents will affect Abbas, peace process
Al Jazeera has begun to publish 1,300 documents that detail far-reaching Palestinian concessions on Jerusalem and borders. The offers were rebuffed by Israel.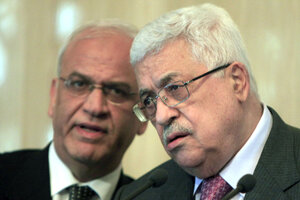 Amr Nabil/AP
A trove of secret documents obtained by Al Jazeera shows that Palestinian negotiators offered far-reaching concessions on borders and Jerusalem in 2008, but that their Israeli counterparts balked.
The cache of 1,300 documents run from 1999 to 2010, a dense and volatile chapter of Israeli-Palestinian history. It spans two cycles of negotiation and deadlock, the flare-up and fizzle of the second Palestinian uprising, Israel's unilateral withdrawal from the Gaza Strip, the demise of Yasser Arafat and consequent weakening of his secular Fatah Party, and the rise of the Islamist movement Hamas.
Copying the strategy of Wikileaks, Al Jazeera has promised to release the documents gradually.
The publication of the trove could generate a storm of criticism against Palestinian Authority President Mahmoud Abbas, whose Fatah-dominated administration is already seen by many Palestinians as corrupt and out of touch with the public, because of his readiness to compromise on cardinal demands.
Among them were allowing Israel to annex Jewish neighborhoods in areas of East Jerusalem conquered in 1967 that are claimed by Palestinians as part of their future capital; and giving Israel control over Jewish areas of the Old City.
---