Tunisia's opposition defends unity government as pressure mounts
Protesters from Tunisia's interior – where the revolution started – arrived in the capital yesterday, significantly increasing the pressure on the week-old unity government.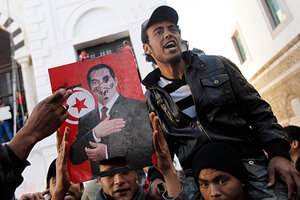 Christophe Ena/AP
Tunisia's opposition leaders appear to have miscalculated by rushing into a unity government that many people will not accept, as protests Monday demonstrated that public anger has not subsided.
Exiles and protesters from Tunisia's interior, where the revolution began, have converged on the capital, adding significant pressure on the week-old government. Though a month of protests forced former President Zine Al Abidine Ben Ali to flee, Tunisians are angry that remnants of his regime remain – including media censorship, the jailing of political prisoners, and a new unity government filled with former members of his party.
"It's not a unity government, it's a fake unity government," says Moncef Marzouki, a political activist who returned to Tunisia last week after living in exile in Paris for 10 years. "Could you imagine in East Germany, after the fall of the wall, the communist party would say, 'Hi, we're still in power, we're in control but you can have a few seats in the government?' "
Dr. Marzouki, who said he would likely run for president in the coming elections, says Tunisia needs wholesale change that the current government is incapable of.
"From the beginning, this government wasn't accepted by the people," he says. "What the Tunisians want is the dissolution of the RCD [Ben Ali's Constitutional Democratic Rally], new political parties, new elected parliament, real elections, a new constitution, and new electoral laws. We want to throw away all the laws that protect the dictatorship."
---