Jordan's King Abdullah shuffles cabinet, but few see an Egypt in the making
The change initiated by Jordan's still-popular King Abdullah is likely influenced by recent uprisings in Egypt and Tunisia. But expectations are low for significant political change.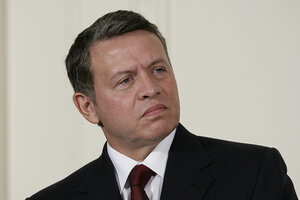 Pablo Martinez Monsivais/AP/File
After weeks of intermittent street protests, Jordan's King Abdullah II has sacked his cabinet of ministers and called for the formation of a new government led by Maarouf Al Bakhit, a career military man with a reputation for maintaining order and stability. The new government is also tasked with implementing political reforms.
But the general feeling is one of skepticism. Jordan's king regularly replaces his ministers when there is a scandal or when public trust in government is low; these cabinet reshuffles are often more cosmetic than representative of actual change.
"The government has really two roles," says prominent political blogger Naseem Tarawnah. "One is to implement an agenda, the other is to be a scapegoat in case things go wrong."
Jordan's government is seldom willing to provide explanations for royal decisions – at the moment, it doesn't even have an official spokesman, since the communications minister submitted his resignation along with the rest of the government. But the change seems clearly related to the recent street protests in the capital, Amman. For three consecutive Fridays, large crowds have gathered at the city's main downtown mosque, chanting slogans. Some, last Friday, waved the green flags of the Muslim Brotherhood.
Although doubtless influenced by recent uprisings in Egypt and Tunisia, the protests here have remained peaceful, and seem much more heavily weighted towards economic issues, particularly complaints about unemployment and rising prices. Protesters had also been calling for the resignation of the just-dismissed prime minister, Samir Al Rifai, and his government, and for a new commitment to political reform and openness. None have ventured to criticize the king, who retains broad popularity in Jordan. (Criticism of the Hashemite royal family is also considered a red line.)
---
Follow Stories Like This
Get the Monitor stories you care about delivered to your inbox.