After Egypt's protests, Jordan's king faces more assertive public
Despite skepticism in Jordan about King Abdullah's appointment Tuesday of a new prime minister, there were no major protests. But a small rally at a government building Wednesday spoke to a fresh willingness to push publicly for reforms.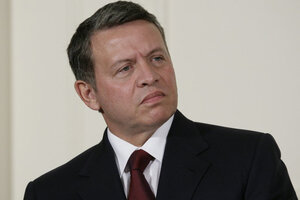 Pablo Martinez Monsivais/AP/File
One day after Jordan's King Abdullah dismissed his cabinet and appointed a new prime minister to oversee political and economic reform, a few dozen protesters at a traffic circle near Amman's prime ministry building chanted "no Bakhit, no Samir," in reference to the outgoing as well as the incoming leaders. The red flags of the leftist Popular Unity Party flew side-by-side with green Muslim Brotherhood flags.
"We came here to make a message to our government, to the decisionmakers in Jordan, that we don't need changes in faces; we need changes in policies," said Ghaith al-Qudah, who was organizing for the Brotherhood's Youth Committee.
Despite public skepticism about the new government, there were no large, organized protests like those that have shaken the capital on the past three Fridays. But the small gathering spoke to the fresh willingness of Jordanians to go public with their discontent – and how the recent revolutions in Egypt and Tunisia have changed the game for a generation.
---