An Iran-style outcome for Egypt? Why there are key differences.
The timing of Egyptian President Mubarak's exit could be crucial to bolstering moderate voices, analysts say. The Army has told protesters to return to 'normal life,' but the protests show little sign of abating.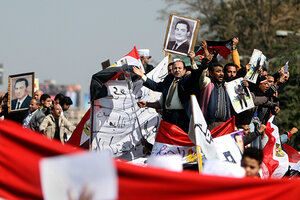 Ahmed Alil/AP
Trying to salvage 30 years of authoritarian rule, Egypt's embattled President Hosni Mubarak warned Egyptians near midnight on Tuesday that they faced a simple choice: "chaos" without him, or "stability" if he stayed on to September elections to manage a peaceful transition of power.
And yet Mr. Mubarak is not the only one waving the flag of fear about the ultimate outcome of Egypt's pro-democracy standoff.
In the West and in Israel, some politicians and pundits warn that Mubarak's fall would yield a disastrous takeover by Islamic militants, similar to the 1979 Islamic revolution in Iran that transformed a pro-West regime into one marked by hatred for the US and Israel.
Egypt protests: People to watch
Experts who know both Iran and Egypt say there are distinct differences, however. They note one critical lesson from Iran's revolution that should inform Mubarak's handling of the crisis: so far, the Muslim Brotherhood – for decades Egypt's largest opposition grouping – has played a small part in the protests, compared with the critical role that militant followers of Ayatollah Ruhollah Khomeini played in Iran in 1979.
---