Egypt's Mubarak, protesters dig in heels
The emergence of government supporters, who clashed today with protesters, indicates a chilling determination from President Hosni Mubarak to hold on to power.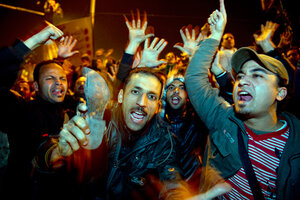 Ann Hermes/Staff
Egypt's Hosni Mubarak appeared to unleash his thugs on peaceful protesters gathered in Tahrir Square today, turning streets near the square into a frenzied and chaotic battle zone. It marked a darker turn in the eight days of demonstrations as protesters and the government appear to be digging in their heels.
Hundreds of people were reported wounded in vicious fighting that broke out suddenly Wednesday afternoon as the protesters who have filled the square since Friday continued to call for the end of his regime.
The violence, which appeared to be state-sanctioned, comes a day after President Mubarak announced he would not run for reelection in September, a concession that emboldened protesters calling for his immediate resignation.
Egypt protests: People to watch
The move to unleash violence on the protesters indicates a chilling determination on Mubarak's part to hold on to power in the meantime by attempting to stop the protests. It also raises the question of whether the Army, which many saw as the deciding factor in whether Mubarak could stay in power, has now chosen a side.
'Mubarak wants all of Egypt on fire!'
Early in the day, the anti-government protesters vigilantly manned their checkpoints around Tahrir Square, extensively searching those entering the square. Witnesses said that pro-Mubarak crowds gathered and then attacked the protesters near Tahrir, some charging forward on horses and camels, waving whips.
---