Yemen's Saleh agrees not to run again. Is that good enough for protesters?
Yemen's President Ali Abdullah Saleh declared Wednesday that he would not seek reelection in 2013, but protesters plan to keep on demonstrating.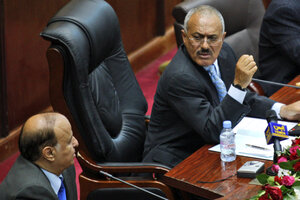 Hani Mohammed/AP
Yemeni President Ali Abdullah Saleh announced today in an emergency parliamentary meeting that he would not run again in Yemen's upcoming presidential election in 2013. The move is being seen as a major concession to Yemen's political opposition after Tunisia-inspired protests have broken out across the country over the past two weeks.
"President Ali Abdullah Saleh announced that he would freeze the draft constitutional amendments that are before Parliament denying allegations that there is an intention for hereditary rule in Yemen," reads a statement from the official Saba news agency in reference to proposed legislation that would abolish presidential term limits and speculation that the Mr. Saleh is going to hand the presidency over to his son Ahmed Saleh.
He added that he will not seek another presidential term in 2013.
Saleh's announcement comes one day before the largest day of demonstrations calling for an end to the corruption of his regime are planned to take place in Yemen's capital, Sana. The constitutional amendments that Saleh referred to in his speech are part of key contention points between the opposition and the ruling party.
Indeed, the mood remains tense on Sanaa's streets, crawling with soldiers this morning as the city waits to see what will happen on Thursday in what has been dubbed Yemen's "day of wrath," using the name Egyptian protesters gave to one of their demonstrations last week.
---