Could Syria see an uprising like Egypt's? Not likely.
In Syria, opposition activists are organizing their own 'day of rage' – but longstanding intimidation tactics and repression make it unlikely significant numbers will be out on the streets.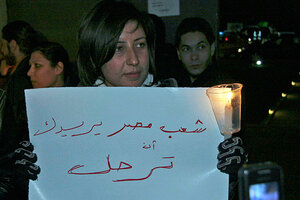 Bassem Tellawi/AP
Syrian opposition activists hope that the shockwave of Egypt and Tunisia's mass uprisings, which have shaken the Arab world, will begin to reverberate in Syria, with calls for a "day of rage" Friday throughout the country.
But analysts believe opponents of the regime of Syrian President Bashar al-Assad face a daunting struggle in replicating the street revolutions that so far have toppled one head of state in Tunisia and left another teetering on the edge in Egypt.
"We have been surprised before in this crisis, but my sense is that it's unlikely we will see large, large, large groups of people coming together because the security services will be intimidating people, arresting people, keeping a very tight lid," says Nadim Houry, Lebanon representative of Human Rights Watch (HRW), a New York-based watchdog.
RELATED: Six countries in the Arab world where 'winds of change' are blowing
The seismic upheavals in Tunisia and Egypt have triggered unrest elsewhere in the Arab world, particularly in Yemen and Jordan. Syria, ruled by the Baath Party since 1963 and the Assad family since 1970, also seems at first glance potentially vulnerable. It shares some passing similarities with Tunisia and Egypt, particularly economic hardship – rising prices, unemployment, poverty, and the cancellation of subsidies on basic commodities.
---