Egypt's VP uses state TV to blame unrest on 'foreign agendas'
Egypt's new Vice President Omar Suleiman took to state TV Thursday night to make a play for Mubarak to hang on until presidential elections in September.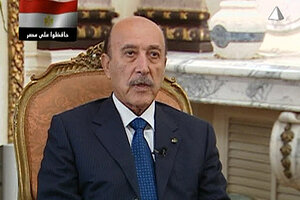 Egyptian television via Reuters TV/Reuters
Omar Suleiman, looking like a president in waiting, took to Egyptian state television tonight with dark hints of conspiracies behind the democracy protests, a dismissal of demands for immediate political reform, and words of loyalty and respect for President Hosni Mubarak.
Mr. Suleiman – Egypt's long-standing foreign intelligence chief until this past week, when he was named Egypt's first vice president since Mr. Mubarak took power in 1981 – made a play for Mubarak to hang on until presidential elections in September, which the 82-year-old leader has promised not to run in.
"Standing down is an alien philosophy for the Egyptian people... Egyptians aren't the ones asking for this. We [Egyptians] respect Hosni Mubarak, our father," he said in an interview with government TV. "We can talk about complete constitutional reform when a new president comes on the scene. We have no time to discuss it now."
But Egypt's current electoral laws and Constitution are rigged against outsiders and strongly favor the ruling National Democratic Party (NDP).
Suleiman himself is among the few Egyptians who fulfill the current candidacy criteria. (Among other things, a candidate must belong to a legal party that won at least 3 percent of parliamentary seats in the last election. The fraudulent parliamentary election last November gave the NDP about 95 percent of the seats and the Muslim Brotherhood – Egypt's most organized opposition movement – remains banned.)
---
Follow Stories Like This
Get the Monitor stories you care about delivered to your inbox.