Syria's Day of Anger? Most Syrians suspect few will take to the streets.
Using Facebook a group has tried to organize a street protest for Friday. The Syrian government appears confident, however, that it can survive the current tumult in the Middle East by clamping down on dissent.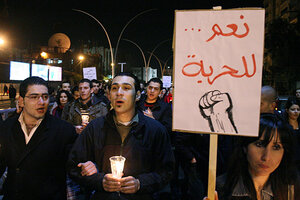 Muzaffar Salman/AP
A Facebook group named The Syrian Revolution – set up by expatriates – is calling for protests in various cities throughout the country and at a number of Syrian embassies overseas. More than 13,000 people are virtual members of the online forum.
But Syrians are skeptical that the "Day of Anger" planned for Friday will initiate large-scale, antigovernment opposition.
That skepticism underscores the government's apparent confidence that by muzzling opposition and maintaining a popular foreign policy, it will be one of the nondemocratic regimes in the region to survive the current tumult.
"The Syrian regime is very tough," Joshua Landis, a Syria expert at Oklahoma University, wrote by e-mail from the US. "It will try to nip any demonstrations in the bud by arresting those who organize them or show up."
If protests do transpire in Syria, each will be closely controlled and probably attract no more than a few hundred protesters, says Mazen Bilal, editor of Suria al-Ghad, a prominent Syrian news website. A few dozen people showed up for several "solidarity vigils" for Egypt in the capital this week, with police breaking up one gathering at the Egyptian embassy.
To some Syrians, the lack of assertiveness is disappointing.
---